Our handmade raw chocolate is the result of a never-ending passion. Our founder Lasse Jalkanen and Development Manager Jaakko Halmetoja are chocolate enthusiasts. It is therefore no surprise that raw chocolate is at the very core of our product development and always gains special attention at Foodin. We want to give our customers nothing but the very best: raw chocolate made from high quality and ethically produced ingredients that are grown with true craftsmanship and love.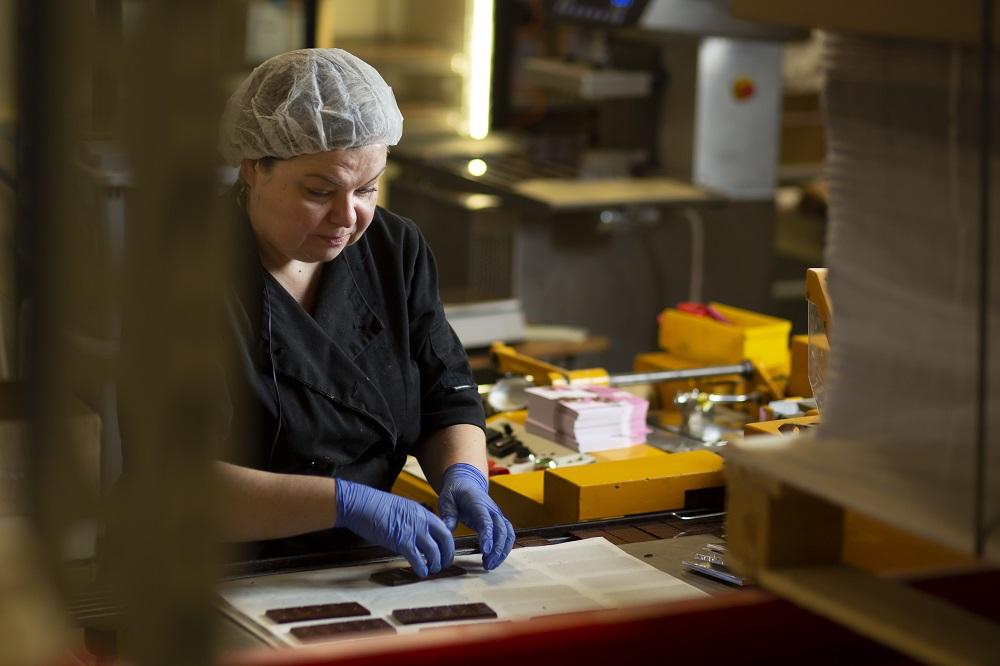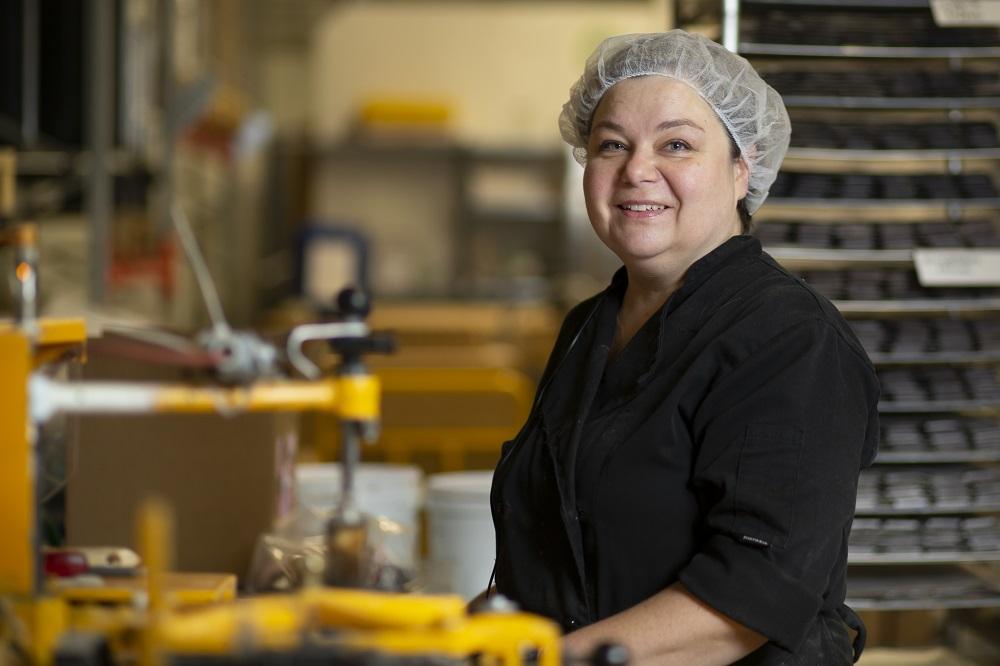 WORKING WITH RAW CHOCOLATE
Our raw chocolate is made by hand in the heart of Central Finland. The luscious chocolate is ground in traditional stone mills with care and love from our chocolate artisan Malla. She describes making chocolate a dream job you'll never be bored of. Malla, who enjoys cooking and is particularly gifted in baking, enjoys her work with chocolate to the very fullest. Working with her hands and seeing the result of her work in beautiful, finished chocolate warms her heart. Malla, a chocolate lover much like Lasse and Jaakko, praises the daily chocolate tasting. "One can never be too careful with quality monitoring in a matter as important as this", she says with a little twinkle in her eye.  
Malla says the best part of working at Foodin is the wonderful team and team spirit unlike any other she had ever experienced in other previous jobs. All new team members are warmly welcomed, taken care of, and any arising challenges are tackled together. Malla learned her trade from our founder Lasse, who guided her into the world of chocolate making.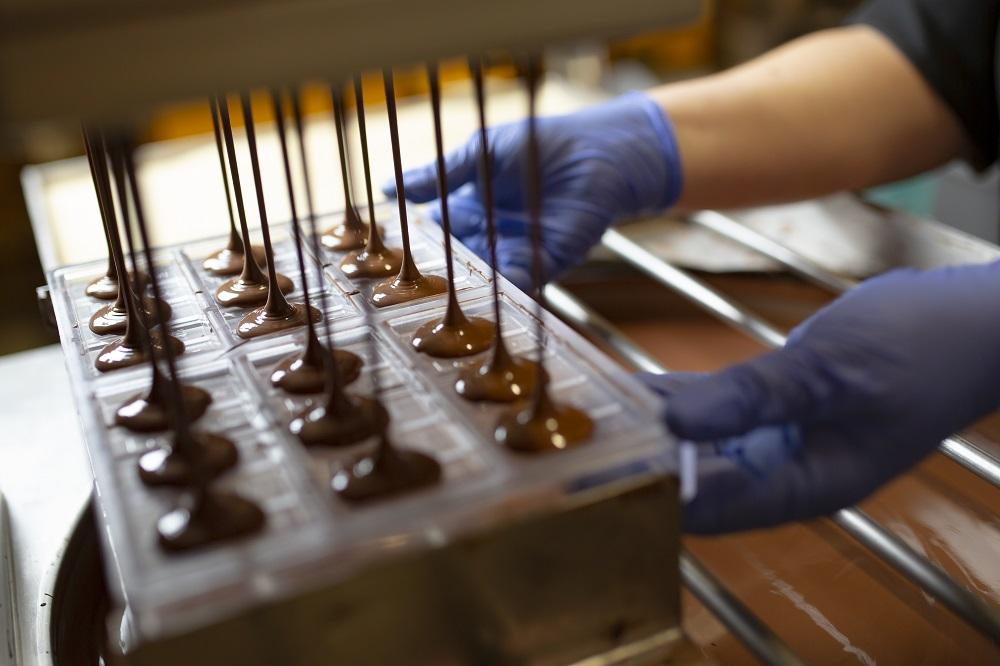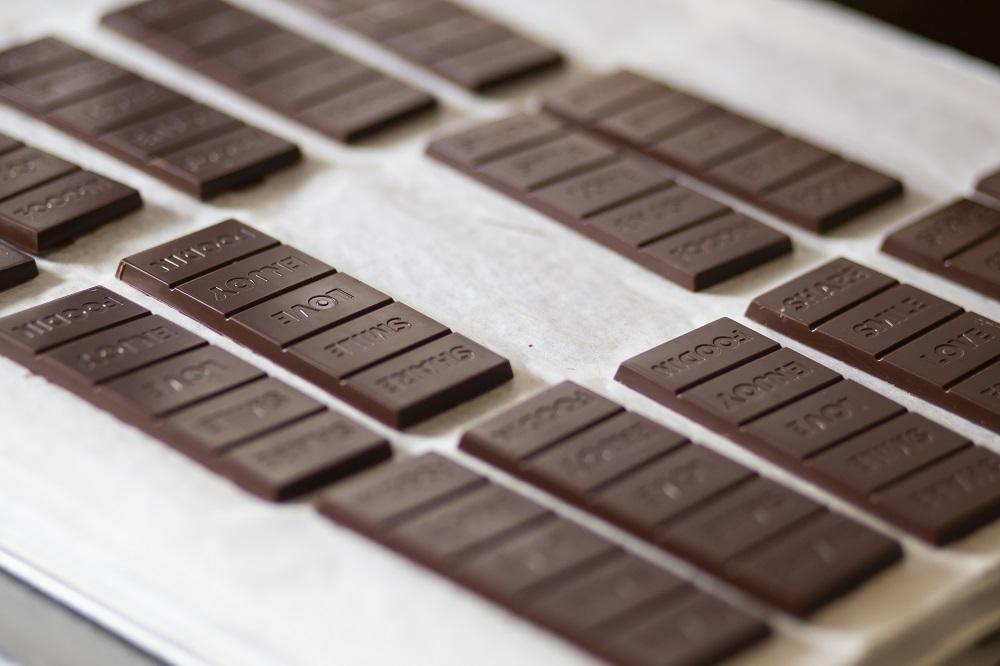 HOW OUR FINE RAW CHOCOLATE IS MADE
The production of handmade raw chocolate begins within a traditional stone mill at our factory in Vaajakoski. Giant millstones grind ingredients into a chocolate mass for two or three days. The temperature of the mass never rises over 42 degrees Celsius, ensuring the product remains raw.  
Once the chocolate mass is done, both our stone ground artisan Sanna and chocolate artisan Malla will conduct a thorough taste and texture assessment. It is important to make sure that the mass is even and silky soft, and that the taste is exactly right. The mass is then tempered, i.e. heat treated. Tempering ensures a shiny finish and the right shade for the chocolate. Malla says that dark chocolate requires a slightly higher tempering temperature than lighter chocolates.  
Tempered chocolate is formed into chocolate bars using molds. Then, the finished chocolates are placed on a vibrating plate, which removes air bubbles and makes the surface of the chocolate smooth. The chocolate bars are then cooled in the refrigerator. Once cooled, they're wrapped into beautiful chocolate wrappers designed and painted by our graphic designer. 
CHOCOLATE = SHARING HAPPINESS
When asked who she would recommend Foodin's handmade raw chocolate to, Malla doesn't hesitate with her response: "For everyone!" she says and smiles, "Foodin chocolates are a better choice for treating yourself. Our family likes it in particular, for it doesn't contain allergenic soy lecithin, which is often used in other chocolates."